With how fast the labor market is moving and changing these days, human resources leaders can't afford to make critical hiring and retention decisions with outdated data.
In fact, according to a recent McKinsey study, many CHROs agree that using data and staying agile are major priorities for this next era of human resources. That's why it's so important to base decisions and strategies on real-time data. We're talking data that's updated daily and weekly, not monthly or biannually.
With Claro Analytics' talent intelligence platform, HR leaders get what we like to call "the Google of labor market data." Simply put, it's a high-powered search engine for people to evaluate labor market data. Claro Analytics' proprietary technology indexes over 400 million public webpages to gather insights about talent and job postings, refreshes all the relevant information daily, and makes all this data accessible at lightning speed.
HR leaders can search for everything from diversity insights to competitive salary data, they can develop talent location strategies and do workforce planning, source top talent, and more — producing actionable results in seconds.
Here are six ways HR leaders can use Claro's fast, timely, and granular data for hiring and retention.
1: Retention
We all know it's far more expensive (and time-consuming) to hire a new employee than it is to retain one. That is especially true these days amidst the Great Resignation, with open jobs topping more than 11 million and millions of workers quitting jobs.
With Claro Analytics, HR leaders can be more proactive about retention, using Claro Analytics' talent intelligence platform to be more in-tune with their workforce. HR leaders can use Claro data to find out where their former employees went (and why), determine which skills they're losing most through turnover, investigate what their competitors are doing, and more.
With real-time data driving their research, HR leaders can create and execute more effective retention strategies that will give their business a competitive edge.
2: Diversity
Companies use Claro Analytics' data for both internal and external diversity benchmarking. Internally, HR leaders can use Claro's real-time data to understand the demographic makeup within their own company. Externally, they can use it to meet DEI hiring goals.
First, it's important to know if you're setting realistic goals. No HR leader wants to set their team and organization up for failure on this front. You can use Claro data to search the demographic makeups of different regions, skill sets, companies, job titles, compensation ranges, etc., so you can understand the supply of diverse talent and set realistic goals.
Does the region you originally wanted to explore contain a sufficiently diverse talent pool to support your equitable hiring efforts, or will you need to look for talent elsewhere? Can/should you open your search up to remote talent? If you're struggling to find diverse talent with specific skills, could you broaden your search to also include adjacent skills? Which companies (or colleges and universities, for that matter) have diverse talent pools you could pull from?
For example, let's say you're looking to hire diverse talent with software engineering skills in the Pacific Standard Time Zone (yes, you can break your search down by time zone!). Claro Analytics can show us where that talent lives and how big the talent pool is.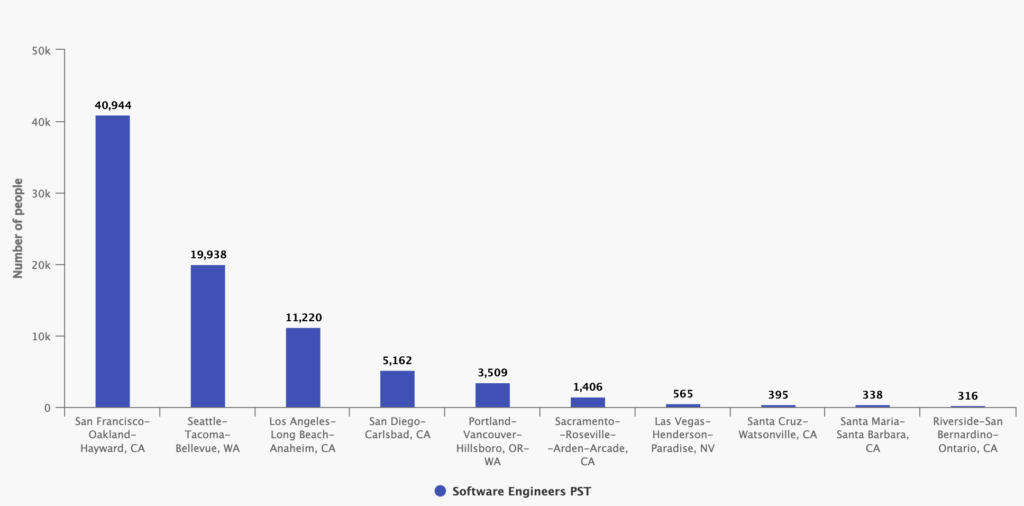 To dig deeper, Claro shows the precise gender and ethnicity breakdown of these Software Engineers.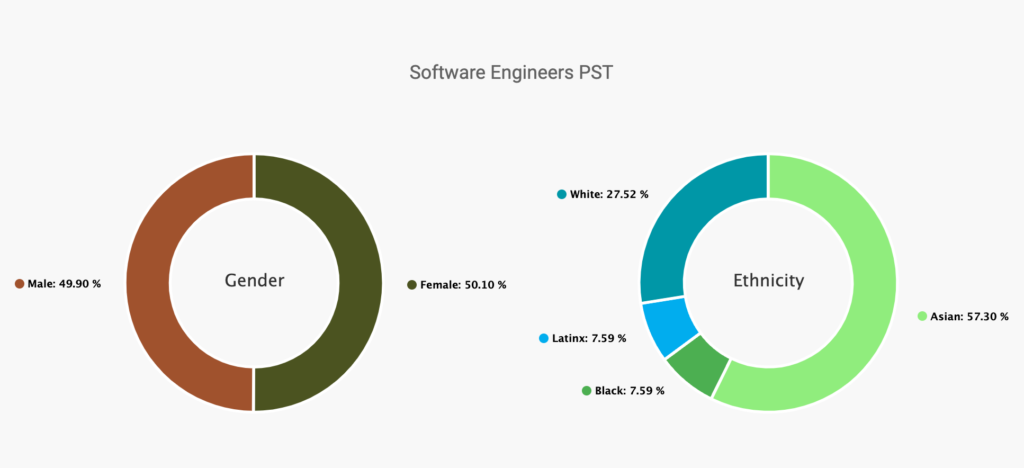 3. Compensation and Benefits
When it comes to compensation and benefits, it's important to know what your competitors are doing. What kind of demand are you up against? With Claro Analytics, you can search any company's job postings and use Claro Analytics' keyword search functionality to zero in on specific salary ranges or benefits.
For example, if you wanted to know how many of your top competitors are offering unlimited PTO, you could search those companies and plug "unlimited PTO" into the keyword search. As you can see from this graphic below, over 22,000 job postings in the US state unlimited PTO as a benefit.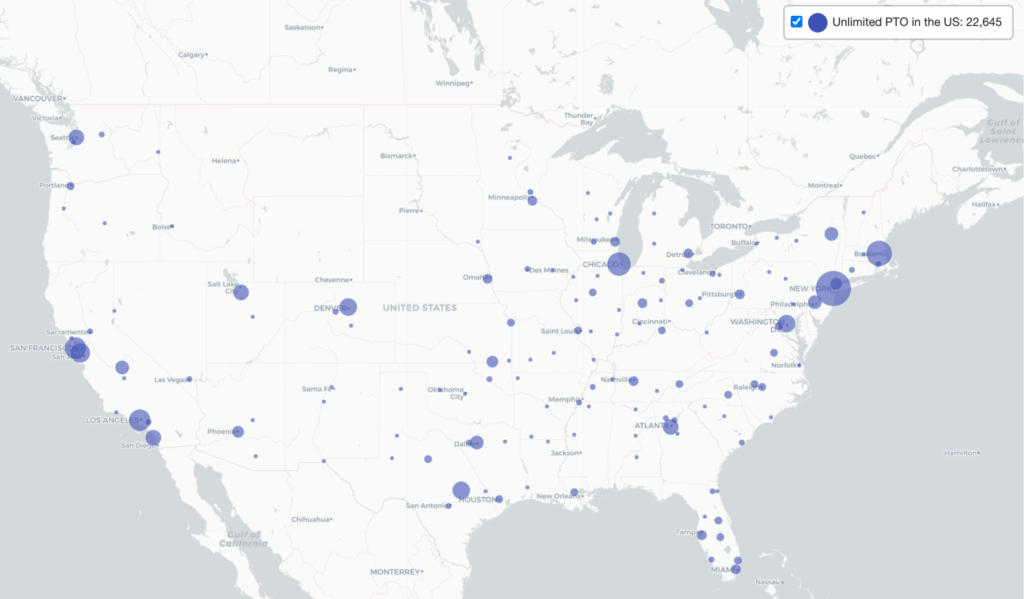 This same concept could also apply to other benefits like remote work, sabbaticals, or parental leave.
If you want to know if your salary range is competitive, you can plug in the job title you're hiring for and the region you're hiring in and see average salary ranges for that title in that region. For example, if you want to hire Registered Nurses in the Chicago metro, you'll need to offer upwards of $96,000 to be competitive.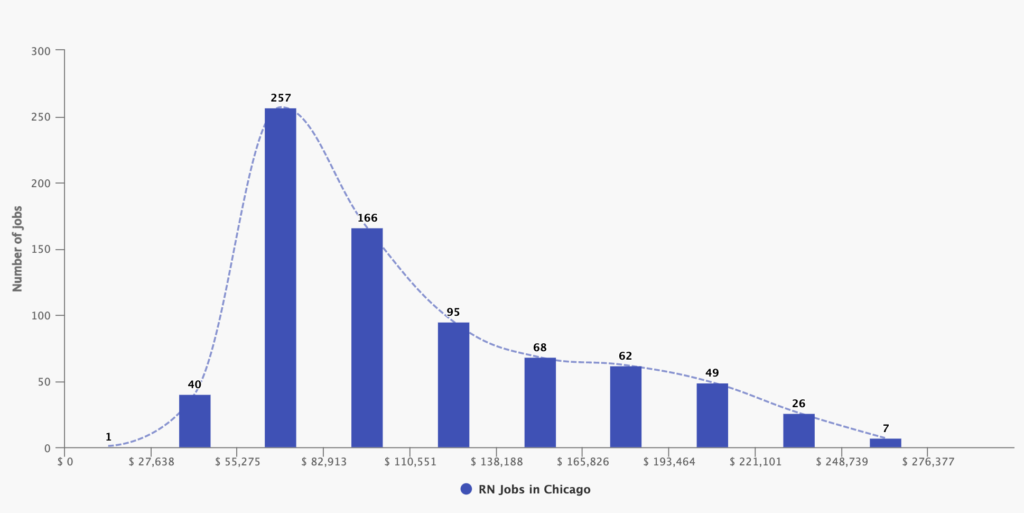 Traditionally, accurate compensation data has been a little hard to come by because so few companies publicly share that information. But with more and more cities and states requiring compensation to be listed in job postings, salary and benefits data will only continue to improve.
4. Competitive Benchmarking
Like we mentioned earlier in this article, as an HR leader, it's important to know what your competitors are doing—and how your organization compares. Are you behind market trends, or are you ahead of the curve?
With Claro data, you can evaluate both the talent supply and demand side of competitive benchmarking. On the supply side, you can find out what talent is available in which markets, and at what price point. If you're having retention problems, you can find out where your former employees went.
If you have diversity goals, you can discover which markets have the largest diverse talent pools with the skills, education, experience level, and salary range you're looking for. For example, if you're wanting to hire diverse, female accountants, you should look in New York, Los Angeles, San Francisco, Chicago, Houston, Dallas-Fort Worth, Washington D.C., Boston, Miami, and Minneapolis.
Not to mention, if you're setting internal diversity goals, you can use Claro Analytics to check the demographic makeup of the city, region, state, or country you're operating in. Does your current workforce reflect the community you're in?
On the demand side, you can look at what your competitors are doing. What does their workforce look like, in terms of diversity? What kind of jobs are they hiring for and where? What kind of compensation and benefits are they offering?
5. Talent Market Mapping
When it comes to hiring, you need to know what the talent market looks like. Are you using the right job title? Are your education and experience requirements reasonable? Are you offering a competitive salary?
Claro's real-time data can give you an up-to-date look at what any given market looks like. And you can feel confident in the accuracy and timeliness of the data you're using for talent market mapping because Claro Analytics updates their database daily, with icons indicating the most recent refresh of each profile and job.
For example, let's say a hiring manager in your team wants to offer $80,000 for a role, but you know the market rate is closer to $100,000. With Claro data, you can go into intake meetings with that hiring manager and give them a granular look at what's really going on.
6. Location Analysis
Despite the rise in remote work, many companies are still looking to bring employees back into the office full-time or on a part-time hybrid basis. With that comes a need for data-driven location analysis to help organizations decide where to build their next office.
The real-time nature of Claro data means companies and site selectors can stay one step ahead of competitors and the rest of the market at all times. If talent supply and/or demand changes in a region, you'll be among the first to know since Claro's data is updated so frequently.
For example, let's say you're T-Mobile and you're looking to open a new customer service call center in the US. You can use Claro Analytics to determine where the largest pockets of customer service talent are. In this case, top contenders are New York City, Los Angeles, Chicago, Dallas, Atlanta, San Fransisco, and more.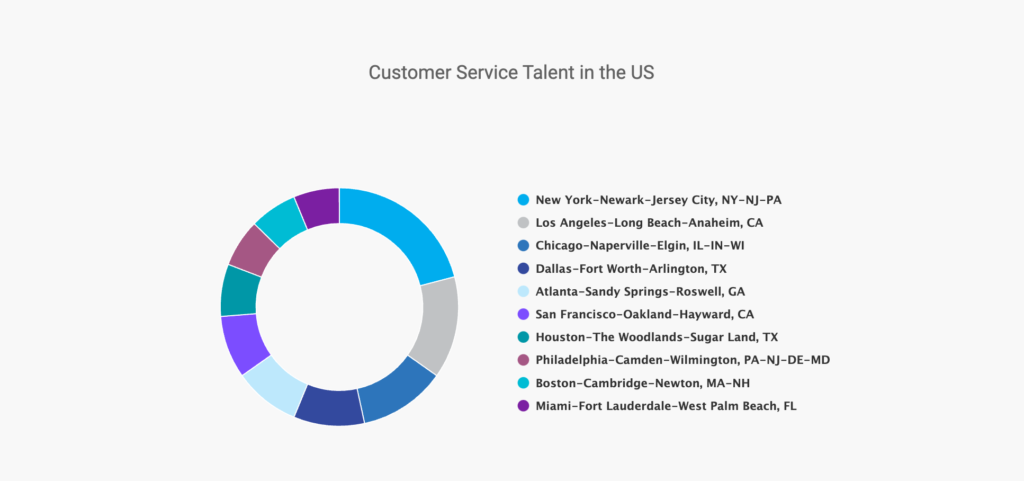 Conclusion
Modern HR leaders need labor market data to make smart, sustainable hiring and retention decisions for their organizations. With Claro Analytics, you can stay one step ahead of your competitors all day, every day.
Looking to make faster, smarter decisions with real-time data? Claro Analytics can help!
Request a demo today.