For over a year, we've seen headline after headline about the Great Resignation, the "war for talent" and job hopping. As the US economy bounced back after COVID-19 and quickly became a job seeker's market, workers took more risks. They changed jobs, joined startups and scale-ups, and used the intense demand for talent to negotiate higher pay.
However, the tide has started to turn.
There have been some layoffs over the past few months – from crypto and automotive to real estate and tech. This, coupled with record inflation, increased housing costs, rising gas prices, supply chain disruptions, a plummeting stock market, and the Russia-Ukraine war, Americans are becoming more risk averse.
Job hopping is still happening, but it's more of a flight to safety than a jump for more money or benefits. As the economy shifts, people are flocking to "safer" jobs at larger, more established organizations with solid growth trajectories.
Here's an overview of what's happening in this "flight to safety."
Job-seeking activity is leveling out
Last year, we saw job-seeking activity increase as people took advantage of the hot hiring market. With so many options at their disposal, Americans felt confident in their ability to find better jobs.
Over the last 12 months, we've seen job-seeking activity level out, aside from a few highs and lows (including the usual dip around the holiday season). We saw an increase around the beginning of the year and then a decline in the spring, after Russia's invasion of Ukraine.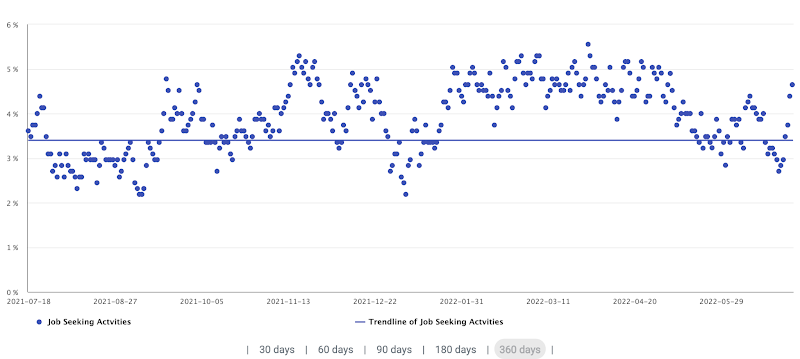 With so much economic uncertainty in the US and abroad, it's not surprising to see the decline in job-seeking activity over the last few months. But it's interesting to see the spike in job-seeking activity in recent weeks. This could be a result of layoffs or workers searching for more stable jobs.
Job-seeking activity can also predict layoffs
Job-seeking activity can be a result of layoffs, but did you know it can also help to predict layoffs? Why? Because employees can often sense when a layoff might be coming, whether that's due to office gossip or public knowledge of the company's financial performance. They may begin searching for a new job before layoffs are announced, in which case, their activity will show with people analytics technology platforms like Claro Analytics.
Want to know if your employees or those from competitors are showing job-seeking behavior? Find out with Claro Analytics' Job Seeking Sonar Tool.
"One time, while tracking job-seeking activity among workers in the automotive industry, we noticed a sharp increase in job-seeking behavior. Two weeks later, a major automotive company announced layoffs," said Michael Beygelman, founder of Claro Analytics and now EVP of product at WilsonHCG.
In another example, this enterprise software support company's stock price has fallen over the last seven months (down 25% YTD).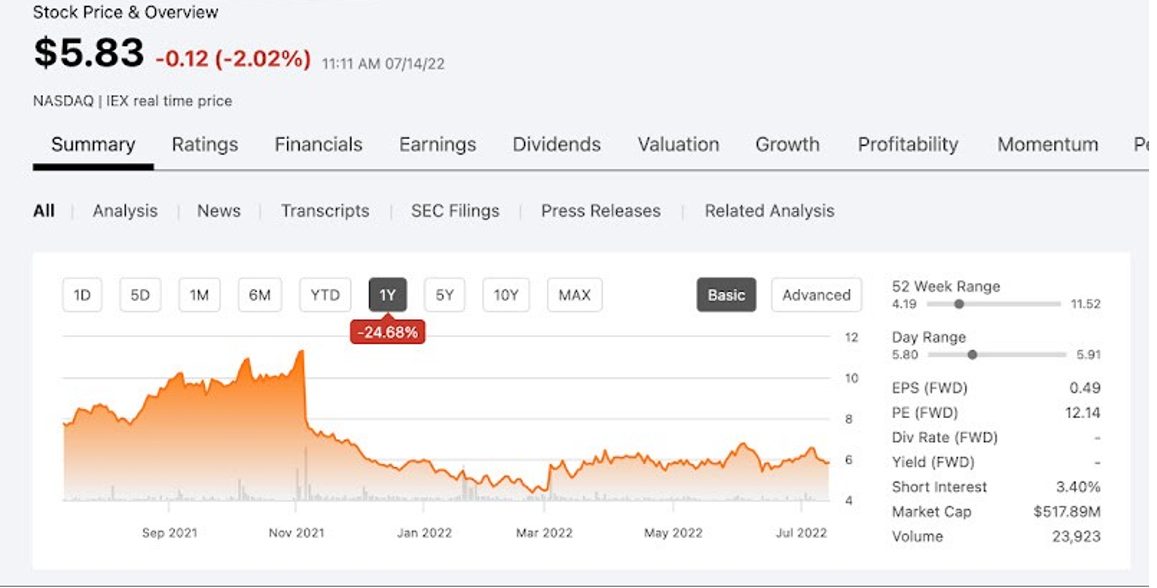 Note the increase in job-seeking behavior for workers at that organization since March. Employees have started looking for a safer bet.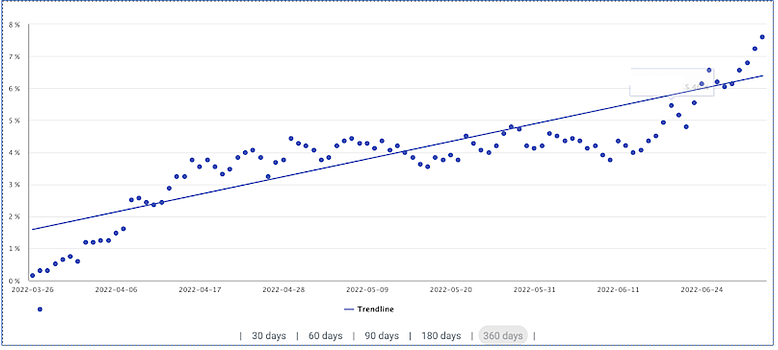 Meanwhile, a rideshare company has struggled over the last year to recover from the impact of the COVID-19 pandemic. You can see the spike in job-seeking activity among its employees around February and March. But, instead of laying people off, the company announced in May that it would significantly slow hiring in the US and reduce budgets. You can see how job-seeking activity among employees decreased after that.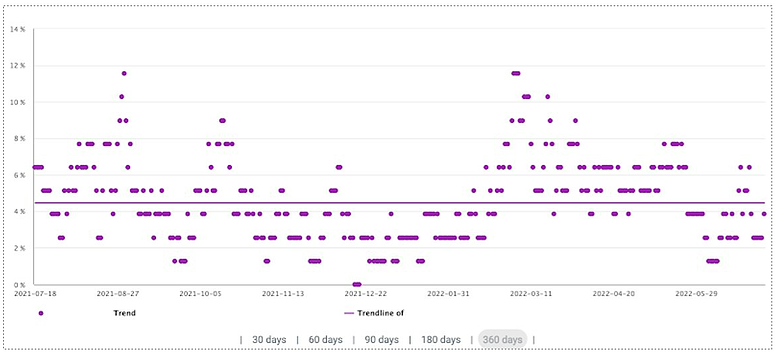 This indicates that the company's public announcement of its plan made employees feel more secure about their jobs.
Here's another example from an e-commerce company. You can see that as the organization's stock decreased, job-seeking activity among its employees increased.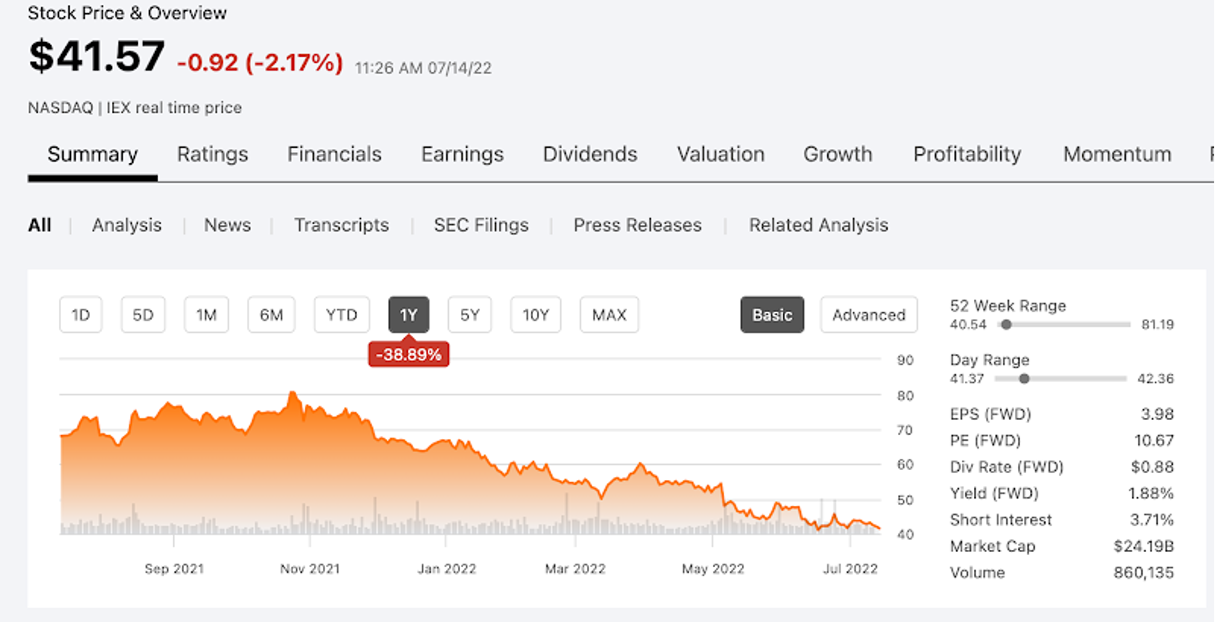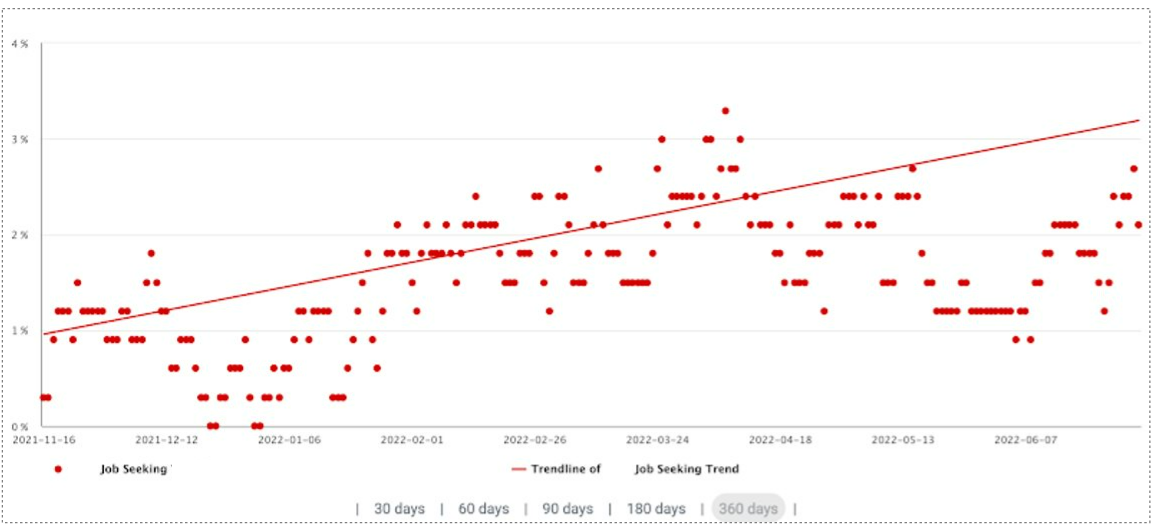 All these examples indicate there is a clear correlation between a company's performance and its employees' job-seeking behavior. When an organization is doing well, its employees stay put. But when a company starts to struggle, employees often start looking to leave.
In addition to predicting general economic trends, this kind of real-time labor data can be useful for companies in many other ways (including hiring and retention).
First, it can alert you before new pools of talent become public knowledge. For example, if you work in financial services and you notice job-seeking activity is increasing among employees at competitors, it may be an indication they are preparing for layoffs. With that knowledge (from real-time data), you can snag that talent before anyone else.
Second, layoff-predicting data from people analytics technology platforms, like Claro Analytics, can help companies prepare for what's coming next. Companies with access to real-time labor intelligence can have a more realistic understanding of potential economic disruptions since the data they are viewing is updated daily. And, with news of a potential recession, using real-time labor data will become even more of a business imperative.
Workers are now in a "flight to safety"
American workers are still leaving (or considering leaving) their jobs right now. But they're not job hopping like they were earlier in the year and making moves purely for more money. Rather, it's become what we're calling a "flight to safety." People are leaving jobs at companies they deem as risky in search of something more secure and stable. Or they're turning down new jobs in favor of remaining in their current roles to wait out a potential recession.
The only way to see how this will all play out is to focus on real-time labor data intelligence instead of using labor market data that's already a few months old.
Looking for real-time labor data that can help you make decisions at the "speed of now™?" Claro Analytics can help. Request a demo today.