Congrats to the Top 50 Veteran Employers!
Today, companies want to hire US veterans. Individuals who have served demonstrate dedication and integrity in their work. Many businesses implement veteran support throughout hiring processes to ensure that their specialized skill sets can find application in today's workforce. Given the sacrifice made by members of our armed forces and their families, hiring teams must advocate for an increase in opportunities. This year's 50 companies employ the most veterans in the US and work to break down barriers for military personnel in the workforce.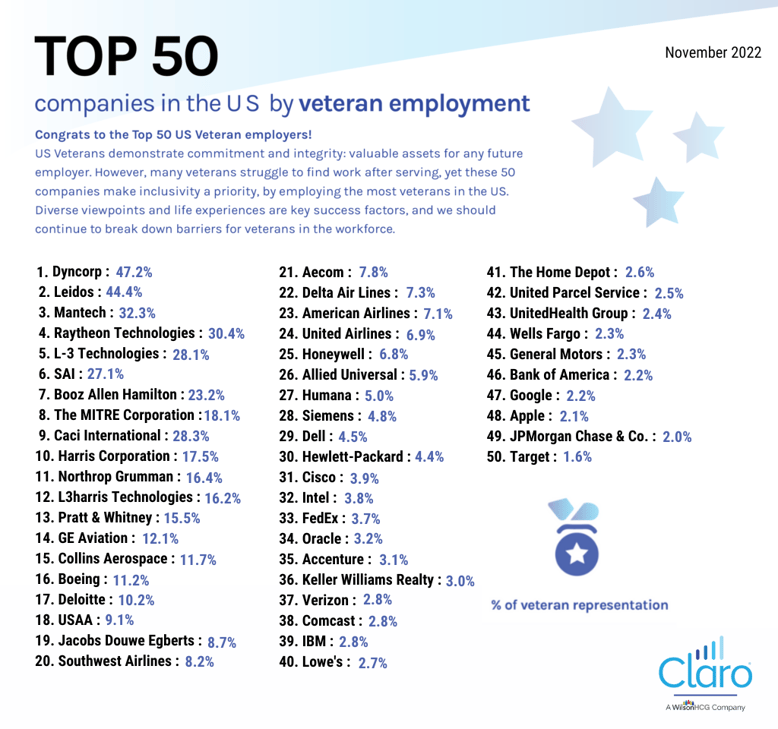 This report's baseline is the top 50 US employers of veterans. The list is sorted in descending order by percentage of veteran employees per company. Claro Analytics uses proprietary algorithms to identify veterans; we do this in a data-responsible manner by applying validated programmatic rules for veteran identification to publicly available information that is accessible on the Internet.
To learn more about how Claro Analytics works, contact us to schedule a demo.